Picture this: You've been hired to cater a corporate dinner for a prestigious business company. Hooray! Great job! Now it's time to get to work! You set up all your tables, bring out all your delicious food, and begin serving. All your dishes are set over a sterno so they stay equally heated at a temperature that keeps them tasty and the risk of food poisoning down. However, as the night goes on, you don't realize that one of your burners has run out of kerosene and has been sitting cold the majority of the night. Unfortunately, that dish is chicken and went bad, making anyone who ate it sick with food poisoning. 
To make matters worse, you don't have insurance and the CEO of the company is among those who got sick. He sues you for not preparing your food correctly. Now you have to pay thousands of dollars out-of-pocket in medical bills and fees. This could financially devastate your business! 
Now picture this scenario if you had catering insurance: You file a claim and your insurance helps out with the cost, not only helping you financially but also professionally.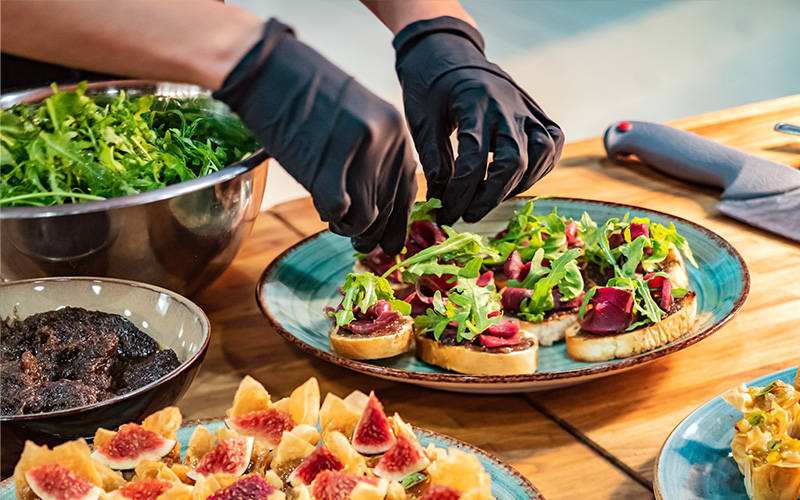 How Catering Insurance Protects You In 2022
The above scenario is just one situation out of thousands that you could face as a food caterer. Here at FLIP, we have created a comprehensive list of five different ways catering insurance can protect your business. Keep reading to find out how plus a bonus tip at the end. 
1. Customizable Coverages
FLIP offers catering business owners several options when it comes to insuring their business. 
General Liability can protect your business from the cost of third-party bodily injury and property damage claims. Common claims can look like a client tripping and injuring themselves on your business equipment or accidental damages done to your business property, like oil stains or spills. General liability has an aggregate limit of up to $2M. 
Product Liability is a great coverage to have when you work with food. If a client gets sick from the food you serve them, this coverage can protect you from the cost of that claim. Product liability has a $2M aggregate.
Tools and Equipment Coverage, also known as Inland Marine, protects your business equipment. Your business depends on your equipment. For example, one night there is a big storm and lightning strikes where you cook all your food. It starts a fire that destroys your ovens and utility mixers. Without these pieces of equipment, you cannot make the food for your catered events. You are not only losing money from not booking events, but now you're losing even more money to try and fix your equipment. With tools and equipment coverage you can rest easy knowing that your equipment is protected. This coverage has an aggregate limit of $10,000. 
Damage to Premises Rented is the ideal coverage for you to have if you operate your business at different locations. Damage to Premises Rented coverage can protect your catering business from damages done to rented spaces. This can include event booths or commercial kitchens. This coverage has an aggregate limit of $300,000.
 Cyber Liability insurance can protect you from the financial burdens that result from a cybersecurity breach. If your business stores sensitive information online such as client payment information then you are vulnerable to a cyber security attack. A cyber security attack could also affect your card processing system and order-taking system. This coverage has an aggregate limit of $100,000
Workers' Compensation is a "must-have" insurance coverage added to your insurance policy. If you have any employees, we highly recommend this coverage. In fact, the state you operate in may even require you to have workers' compensation on your insurance policy. This coverage has an aggregate limit of $300,000
2. Cater Anywhere, At Anytime
Our catering insurance can protect your business anywhere you operate at any time of day. If you have a catering gig at an outdoor festival on a Friday, then a wedding in a barn on a Saturday, you can still be covered. Book clients easily knowing that FLIP has your back. 

3. Free Unlimited Additional Insureds
A big part of your catering business is bringing the food to your customers and as mentioned previously, that can include working anywhere. Many places you cater to may require you to list them as an additional insured on your insurance policy. We know you are busy, that is why we offer you free unlimited additional insureds. You can add them day or night just by logging into your user dashboard in just minutes.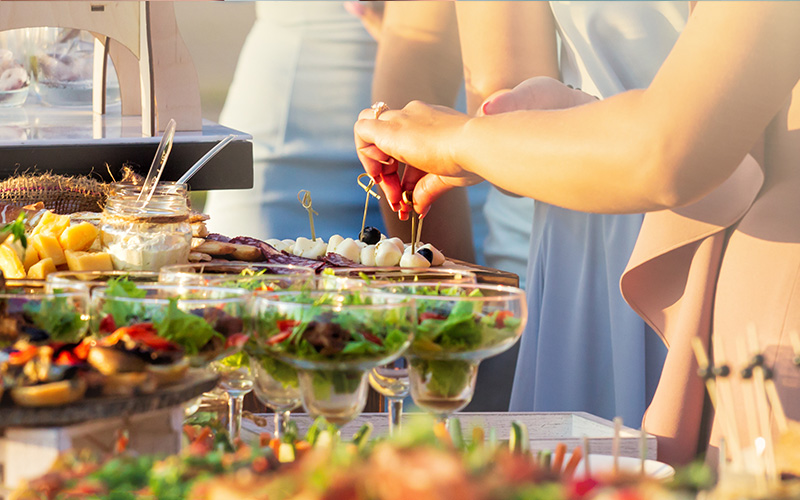 4. Peace Of Mind
Insuring your business can not only protect you financially but also protect your peace of mind as well. When you have peace of mind, you are better able to run your business and make decisions that are well-informed and educated. Not to mention, when your business is insured, you can rest easy knowing that when a claim happens you are protected. 
According to a study conducted by Fit Small Business, 40% of small businesses filed a claim. While this number isn't alarmingly large, it shows that at some point in your business ownership career, you will be faced with a claim. In the same study, they found that only 54% of small businesses had insurance, and while that percentage is over half, it still means that half of business owners don't have business insurance. Don't be one of those business owners. Protect your business today with catering insurance. 
Bonus Reason:
This bonus reason is a great perk for insuring your catering business. Insurance coverage helps boost your credibility and allows you to book more jobs. This not only protects your business financially but it helps to increase your professionalism. Become a trustworthy catering business and set yourself up for success. 
To Wrap Up
When you insure your business with catering insurance you not only receive peace of mind but real financial stress is taken away. With insurance for caterers, you have the option of customizing your coverage to fit the unique needs of your business. General liability, product liability, tools and equipment coverage, and cyber liability are all fantastic tools to have in your toolbox when a claim happens. If you're ready to take that next step to increase your credibility as a caterer, start your quote today!