If you own a food business and need a space to cook or bake without building or leasing your own, commercial kitchens (a.k.a. commissaries, ghost kitchens, virtual kitchens, cloud kitchens, etc.) are a fantastic way to go. 
Commercial kitchens are licensed locations designed to have everything you'll need to cook or bake without the hassle of buying and setting up all the equipment yourself. Using a commercial kitchen is a great way to reduce overhead costs, which will allow you more time to focus on building out your menu and growing your business.
However, there are several factors to consider before you start renting a commercial kitchen, including important legal and safety requirements. Today, we'll break down everything you need to know about commercial kitchens, including how they work and what you're required to have in order to rent one, as well as what you should consider before using one. 
How Do Commercial Kitchens Work?
There are two types of commercial kitchens: shared-use and private, which are exactly how they sound.
A shared kitchen is one you and other food business owners will have to split your time and space in, while renting a private kitchen grants you exclusive access whenever you want it but tends to be more expensive.
If you go the shared-use kitchen route, you may rent it by the hour or purchase a membership where you can reserve the days of the week you'll need it as well as the hours of operation you want. It's important to check with the kitchen you're looking to rent and make sure their hours of operation work with what you need before signing any agreements.
Of course, sharing space comes with other challenges as well. You'll be splitting storage space with other businesses, meaning fridge, freezer, and shelving will be limited. 
The kitchen comes with commercial-grade equipment, which is great for keeping your overhead costs down, but if something breaks or isn't in the best shape you may not know until you get there. 
Commercial kitchens also must meet local compliance regulations for food preparation and storage, which may take some stress off of you as a business owner. However, there are still some legal requirements you will need to meet before you rent.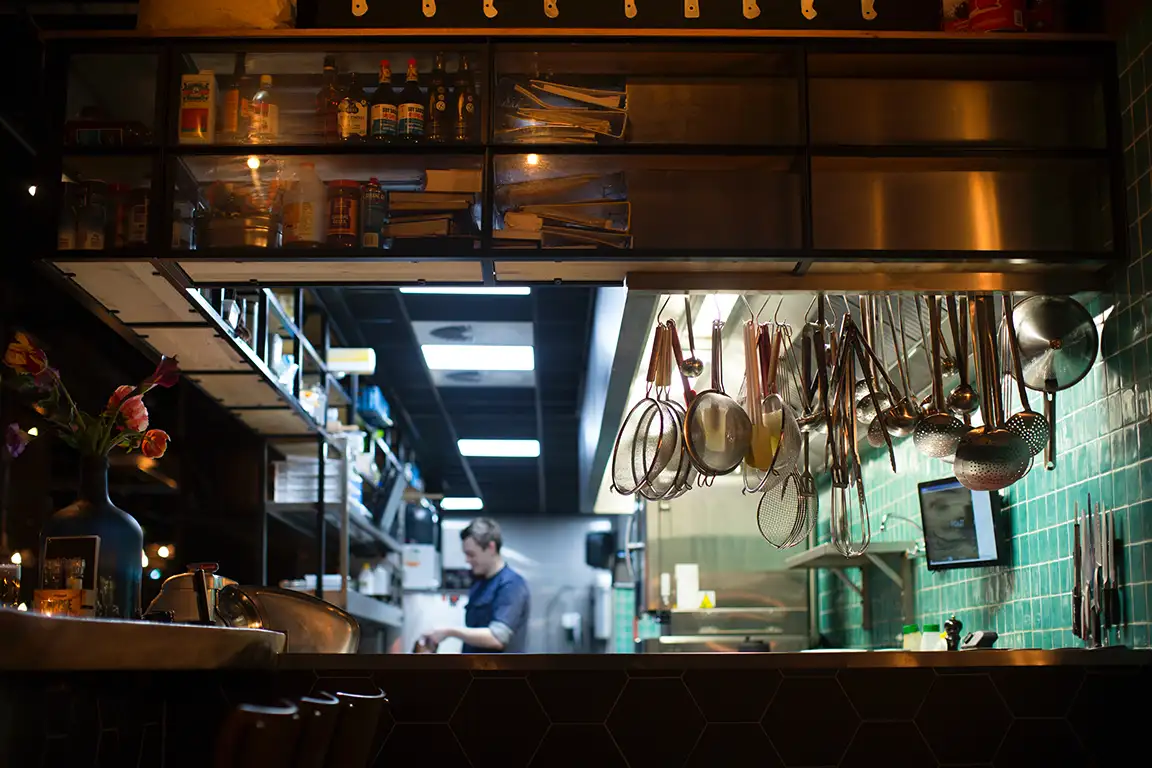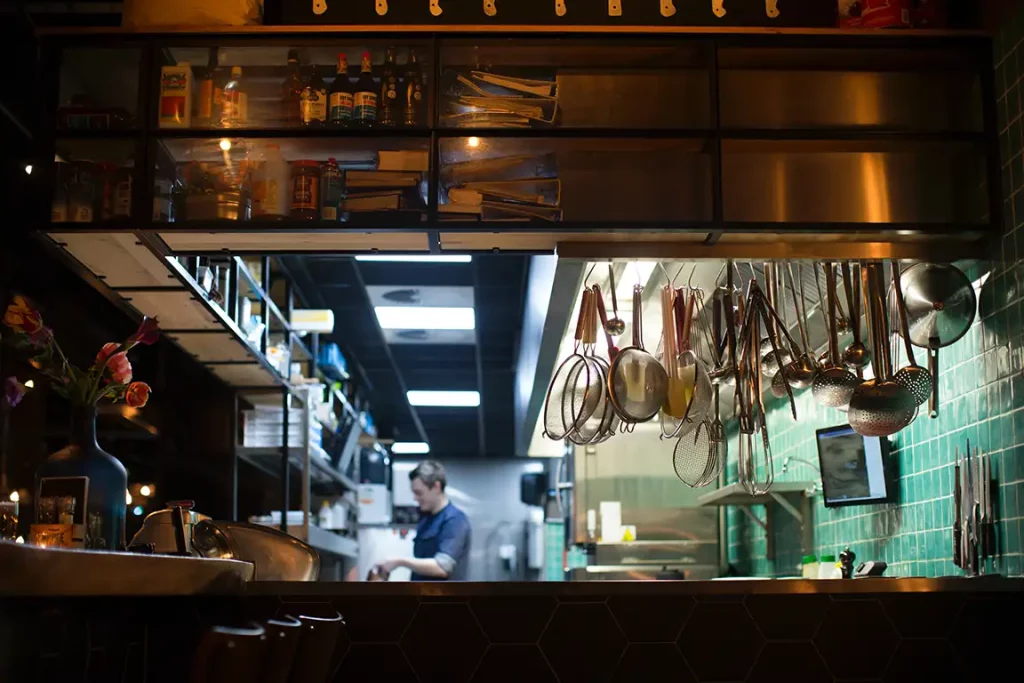 Before you rent a commercial kitchen, you'll need to check in with your local health department to see what documentation you need as this can vary depending on where you're located. In general, you should probably expect to have the following ready to go by the time you're looking for a place to rent.
In order to get this card, you'll need to take a short course and pass an exam. These courses are specific to your local health department, but they are all designed to show that you understand food handling and public safety.
Granted by a government agency, this license permits you to conduct business in a certain location. The process and fees vary from state to state, but it typically involves an application process and can take anywhere from days to weeks to receive.
Commercial Kitchen Insurance
Many commercial kitchens will require you to have insurance coverage and may even request to be added as an additional insured. This coverage is meant to protect you from financially damaging claims that might occur while doing business in a commercial kitchen. Common claims renters have been hit with include:
Damaged equipment

Damaged property

Food poisoning

Customer injuries

Even if the kitchen you rent doesn't require you to have coverage, having commercial kitchen insurance can help mitigate or eliminate the costs associated with unexpected claims.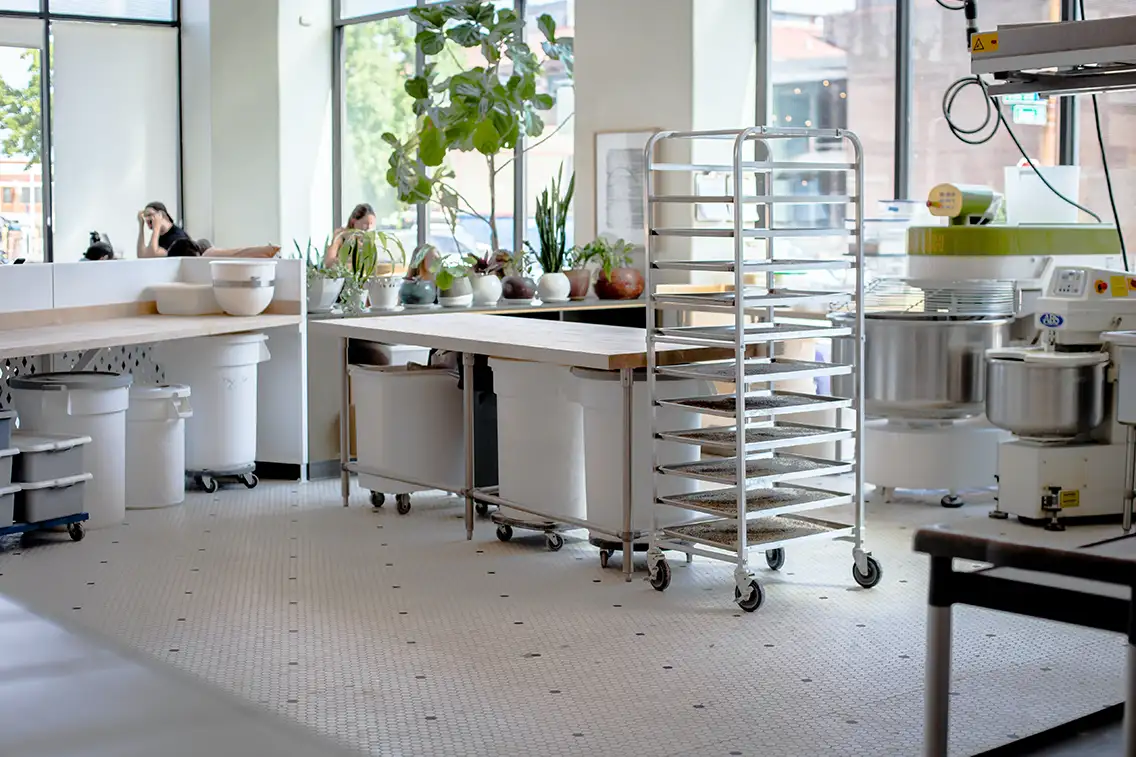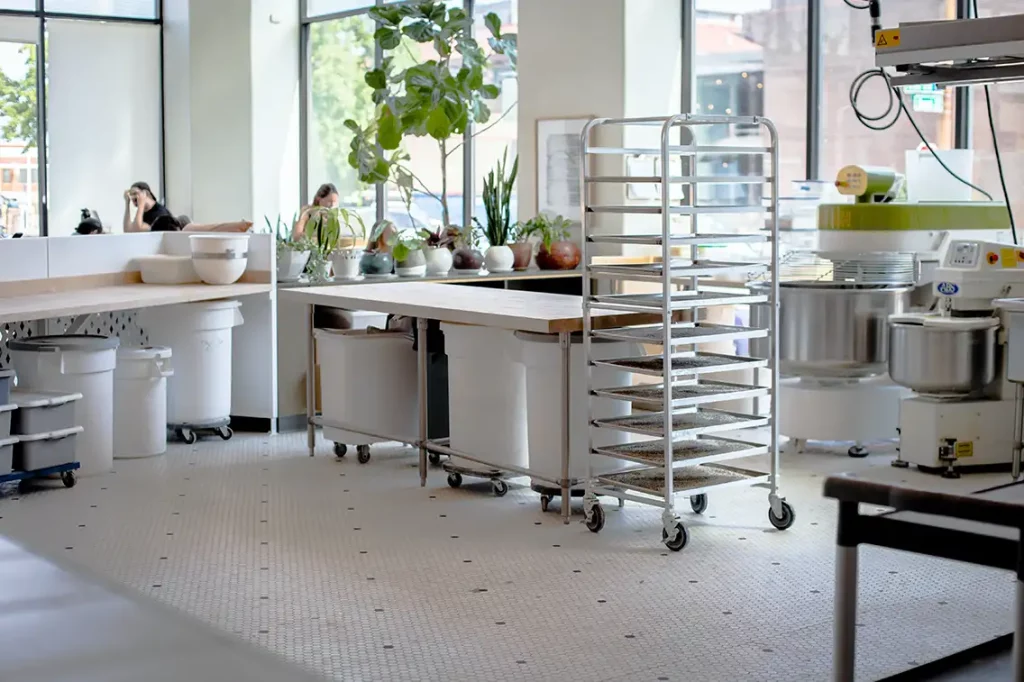 Requirements for Commercial Kitchens
Now that you know what you need to bring to the table, let's talk about what standards commercial kitchens should meet so you know what to look for when renting. 
Commercial kitchen code requirements can differ from state to state, but regardless of where you're doing business there are a lot of standards that must be met. Below are the basics you should be aware of before renting. 
Commercial kitchens vary widely, so it's important to look at the one you're thinking of renting to ensure it has enough space to accommodate the equipment, workstations, storage areas, and traffic flow of your business. 
It should be designed in a way that allows for safety and efficiency—if your employees are constantly having to squeeze past each other, the kitchen might be too small.
There must be a ventilation system in your kitchen that effectively releases heat, steam, and smoke. It might help to familiarize yourself with commercial kitchen hood requirements so you know what to look out for when checking out a place to rent. Good ventilation helps you maintain a comfortable working environment and ensures health and safety compliance.
Commercial-Grade Equipment
The kitchen will be supplying most (if not all) of the equipment you'll use, which is why it's crucial to ask about what exactly they provide to ensure it meets your business needs.
For example, if you're a baker who needs to refrigerate several three-tier wedding cakes at a time, one fridge might not be enough space for you—especially when you consider sharing it with other renters.
Here are some of the major commercial kitchen supplies that should be provided for you:
Three sinks:

One for handwashing, one for food washing, and one for mops. 

Fridge and freezer:

These are crucial for keeping your ingredients safe and fresh.

Cooking equipment:

This typically includes a range, oven, holding equipment (to keep food at a certain temperature), grill, griddle, broiler, toaster, deep fryer, and microwave.

Smallwares:

Cooking and eating utensils such as forks, knives, spoons, spatulas, pots, pans, dishes, cutting boards, etc.

Dishwasher:

The type of dishwasher could vary depending on your local requirements but all commercial kitchens should have one.

Cleaning and janitorial equipment:

Keeping a sanitized kitchen is extremely important to reduce the chance of contamination and foodborne illnesses. Commercial kitchen cleaning supplies should include mops, brooms, vacuums, trash cans, recycling bins, cleaning chemical buckets, restroom supplies, rags, paper towels, etc.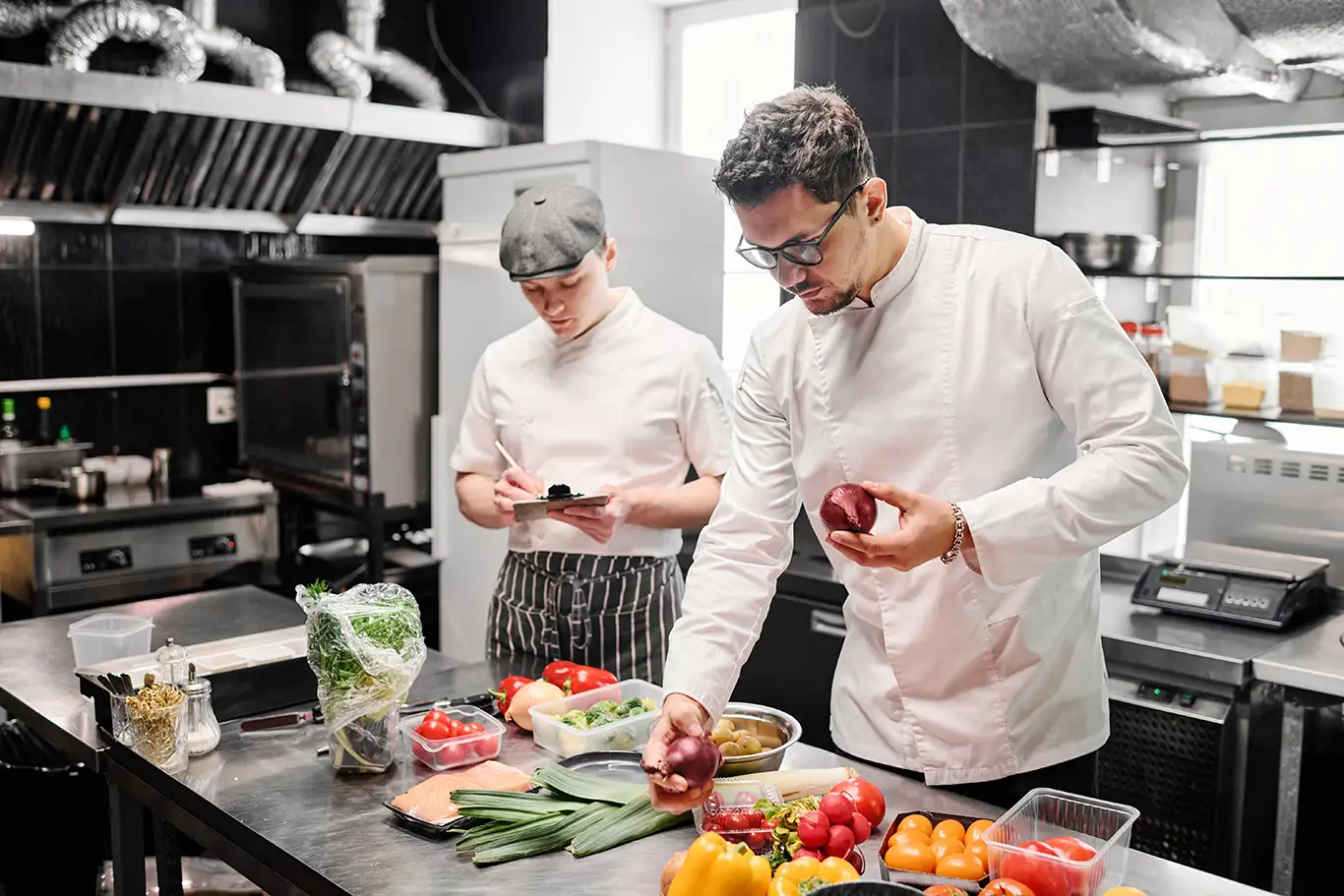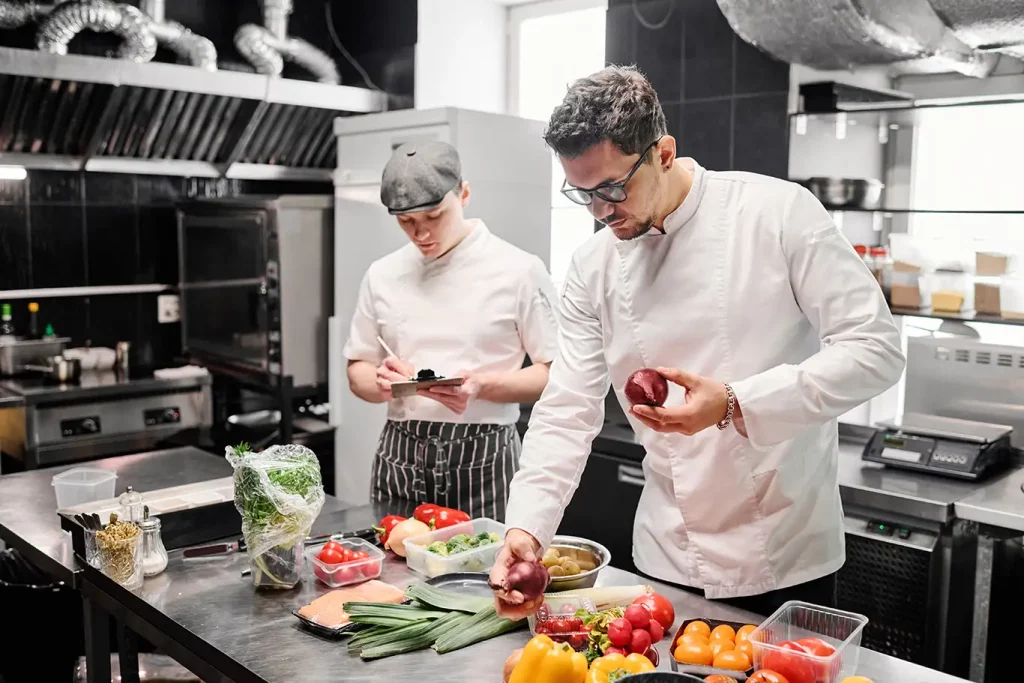 Commercial kitchens should all provide some degree of storage space for renters, but the amount of space varies greatly depending on the size of the kitchen. Some will even charge extra for access to storage. Be sure you know what a kitchen's storage policy is before signing a rental agreement.
All commercial kitchens are subject to health inspections, so when you're looking for a place to rent ask to see their inspection history. If they have a pattern of getting shut down by the health department, you may find yourself unable to conduct business because the kitchen has been forced to temporarily close.
When working with high temperatures, there's always a risk of a fire. A good commercial kitchen should be up to code, with the proper fire suppression systems, extinguishers, and alarms. While they should be receiving regular evaluations from the fire marshall, it doesn't hurt to ask about fire safety when looking into a particular space to rent.
Renting a commercial kitchen can be a major cost saver for your food business and eliminate many of the hassles that come with having your own kitchen. However, accidents happen in the workplace, and commercial kitchens are no exception. To keep your employees safe on the job, here are a few tips:
Require all employees to wear closed-toe shoes with non-slip soles and to cover as much skin as they can while staying comfortable. Clothes should be fitted and not baggy.

Stay on top of cleaning spills and broken glass. Reduce the chance that someone will injure themselves and use hazard signs while cleaning up the mess, and remember to always use a broom and dustpan to handle shards of glass.

Encourage communication between your employees. Collisions happen all the time when someone is walking behind another person or coming around a corner, which can be made worse when someone's holding a knife or hot food.

Use non-slip mats in the kitchen. If the space you're renting doesn't provide them, it may be worth bringing your own since

849 workers died in 2016 from slipping and falling

, according to the Bureau of Labor Statistics.
Even with proper safety precautions, accidents still happen. Whether that's an injured employee or damaged rental property, you'll want the peace of mind that comes with having commercial kitchen insurance. 
With FLIP, you can get coverage starting at $25.92 per month or $299 per year and get free and unlimited additional insureds, which many commercial kitchen owners will require.
Make insurance the special ingredient in your recipe for success and get insured today. Bon appétit!