Picture this: you're curled up on the couch watching the latest episode of The Great British Baking Show and making a mental note to bake Mary Berry's black forest gateau the next time you have time off from work. 
You wish you could just quit your day job and become a professional cake maker, selling the cakes you make from home, but you have no idea where to start or if it's possible for you. 
If this sounds familiar, you've come to the right place! 
Starting a home-based cake business is no small feat, but many have done it successfully and so can you. That's why we've put together this step-by-step guide to starting your own cake business from home—so you can turn your life's passion into your profession.
We'll cover everything from making sure your business is operating legally to promoting your confections and growing your customer base. Let's get started!
1. Know Your Local Requirements
Before taking any steps towards starting a cake business from home, you need to know if it's actually possible in your area. 
Not all states or local governments allow you to sell cakes you bake from home, including New Jersey, where selling home-baked goods is outlawed. In Rhode Island, only farmers are permitted to sell homemade food. 
Even if your local laws allow it, many homeowners' associations have rules against running any kind of business from your residence. You should also check zoning laws in your city to make sure you don't live in an area that doesn't allow home businesses. 
If you're in luck and there are no laws or regulations stopping you from starting your business, there are other requirements you will likely need to meet to legally operate. 
For example, in order to have a home-based bakery in Kentucky you must have a commercial kitchen. Commercial kitchens come with their own set of standards that vary from place to place, so be sure to read up on those if you are going to build your own.
Most local governments will also require you to get a business license, and you may even need a special home-based business permit on top of that. The health department in your area will likely have special standards for you to meet and may conduct routine inspections.
A great way to make sure you're meeting requirements is to call your city government and ask if you are allowed to have a home-based cake business and if so, what you will need in order to operate legally.
You can also familiarize yourself with local cottage food laws, which determine how or if you can sell food made from home. Again, these vary based on where you live, so make sure you know your state's laws.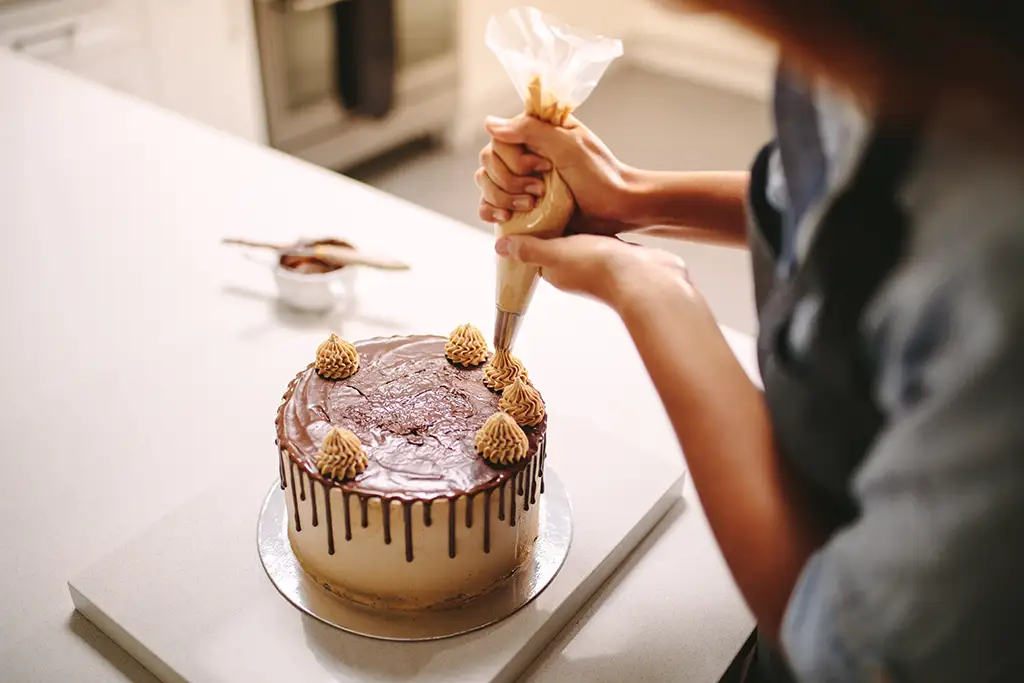 Once you've determined that you can legally operate a home-based cake business, it's time to get your space ready. 
Start by assessing your kitchen—how much space do you have to work in? If your kitchen already feels small and cramped to you, it will be hard to run a business out of it. You may need to consider remodeling your kitchen if you own a home or moving to a place with a roomier kitchen.
Remember to consider how much storage and countertop space you will need to comfortably operate out of your home kitchen. Do you have room for multiple stand mixers if you need them? Do you have an area where you can conveniently store ingredients like flour and sugar in bulk? Do you have enough fridge space to store cakes after they've been made?
Take a look at your supplies next. You may already have items like cake tins, piping bags, and a stand mixer, but are they high-quality enough to withstand repeated daily use? While one stand mixer or one set of measuring cups might have been enough for you in the past, you may need to consider buying more in case you're working on multiple cakes at once.
Now for the fun part! Coming up with a great name for your business is essential. The name of your business will be the first thing most people learn about you before they've ever tried one of your cakes, so it's important to leave a good impression that represents your business well.
Of course, there are many different ways to do that. One way is to think about the feeling you want your customers to have when they purchase a cake from you. Everyone wants their customers to be happy, but if you specialize in cakes with classic or retro designs, you might want them to feel nostalgic too. Look for words associated with the feeling you're aiming for.
Consider what makes your cake business special. Do you use a certain special ingredient in every cake? For example, if you always make cakes with honey, you might want your name to reflect that. 
Maybe you specialize in making a certain type of cake, like wedding cakes or sheet cakes. Your business' name would be a great way to highlight this so customers know what to expect.
Once you've picked out the perfect name for your business, make sure you register it. This will ensure that no one else uses the same name as you and that you aren't using another business' name.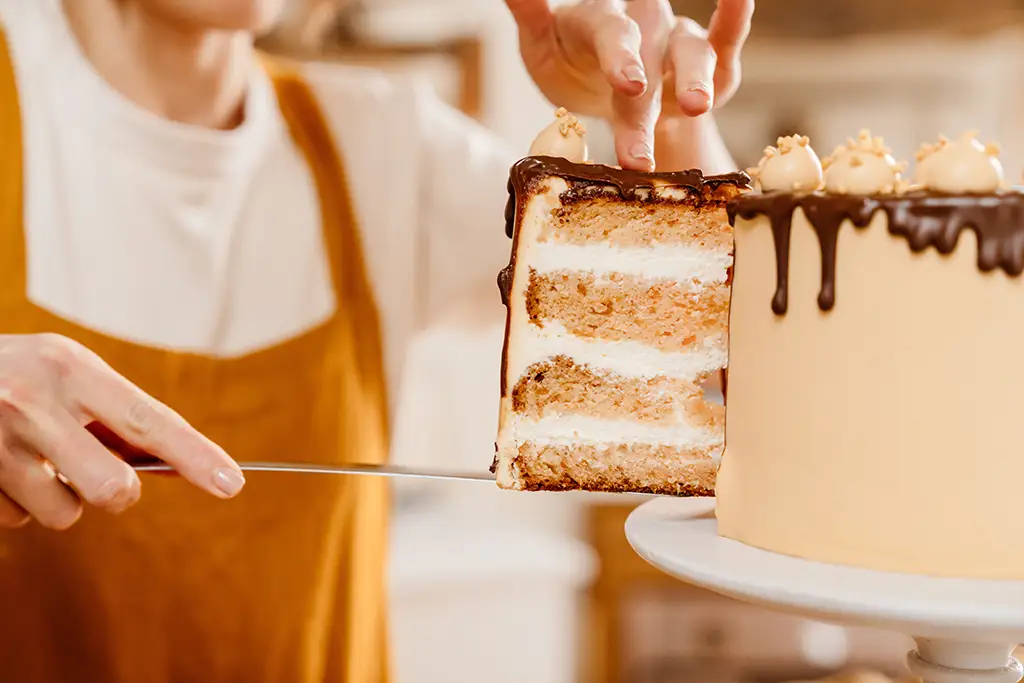 4. Create a Business Plan
Before you ever bake a cake to sell, you should develop a plan for your business. Knowing what you envision for your business, as well as how much money you should expect to put towards overhead costs, is crucial to your success as a professional at-home cake maker.
First, you should decide how you want to interact with your customers. Will you deliver, ship, have customers pick up their cakes, or some combination of the three? Consider what is most realistic and affordable for you and learn about the shipping rates for baked goods.
Next, you should decide if you will bake custom cakes or if you will only sell cakes you've already made. Some businesses do both. It's also worth considering if you plan to sell cakes to businesses like cafes and coffee shops for resale. This can be a great way to promote your business to a wider audience, too.
Of course, setting your prices is a huge part of your business plan. Add up the cost of your ingredients and the cost of your labor. How much is an hour of your time worth? It's important to factor this into the final price of your cakes, as it takes more than just ingredients to bake something.
Do some research and see what other cake makers in your area are charging for their products and set prices that compete with theirs. Don't fall into the trap of trying to compete with grocery stores, though—setting your prices this low will result in you barely scraping by with a profit.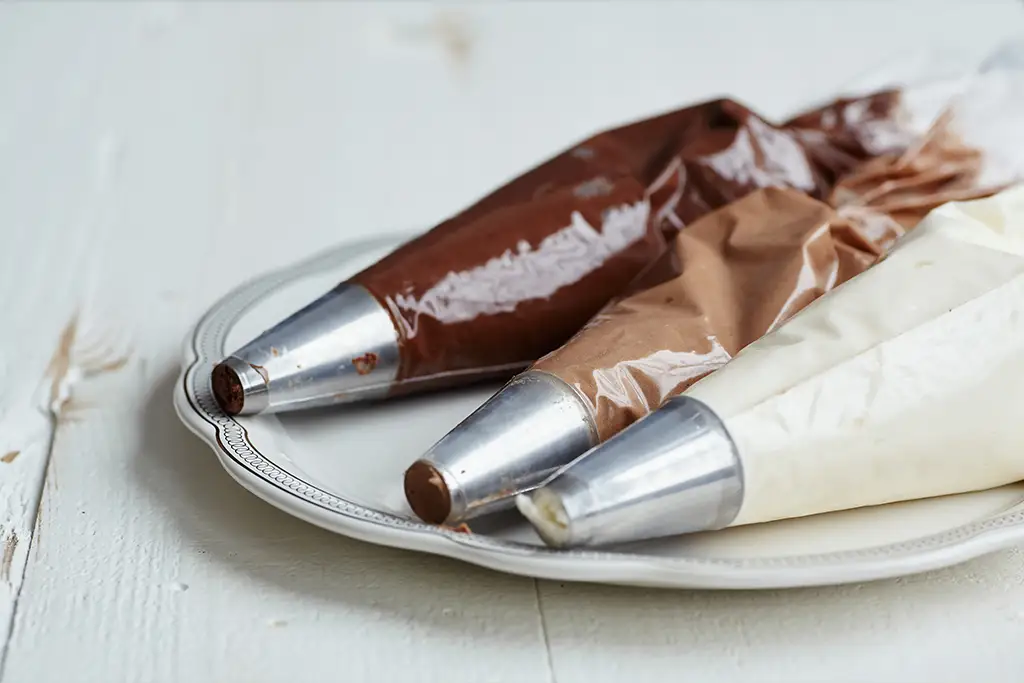 Getting the word out about your business is always important, but without a storefront to bring customers in you don't want to skip over this step.
Many at-home bakers rely on referrals to attract new customers, and a great way to do this is by setting up a booth at your local farmers market. Take advantage of this opportunity to introduce your business to potential customers by coming prepared with free samples or discounted prices. Bring a binder full of pictures of cakes you've made in the past so customers can see the full scope of your abilities.
Farmers markets are also a great place to hand out business cards so people know how to contact you. To make your card stand out and really highlight what you're capable of, consider putting images of your cakes on the back of the card.
Of course, building an online presence for your business is incredibly important in this day and age. Platforms like Facebook, Instagram, and TikTok are great places to build your brand and customer base. Baking videos are extremely popular on TikTok and can be a fun way for you to show off your skills—the search term "cake decorating" has around 150 million views.
Running an at-home baking business is certainly not a piece of cake. Aside from running the business and turning a profit, there are many risks involved that can be financially catastrophic for you, such as:
A customer contracting a foodborne illness from one of your cakes and suing you for their medical expenses.

A customer has an allergic reaction to a cake they purchased from you and this allergen wasn't labeled.

A huge storm rolling through your area, flooding your kitchen and ruining your equipment.

While you can do your best to prevent these situations, they can still happen to you and result in expensive claims that threaten your business, which is why getting liability insurance is so important.
Starting at just $25.92 per month, you can get cake maker liability insurance through FLIP and protect your finances from unexpected claims. FLIP's coverage can help pay for expenses such as legal fees, medical fees, equipment fees, and more so that you can focus on growing your business.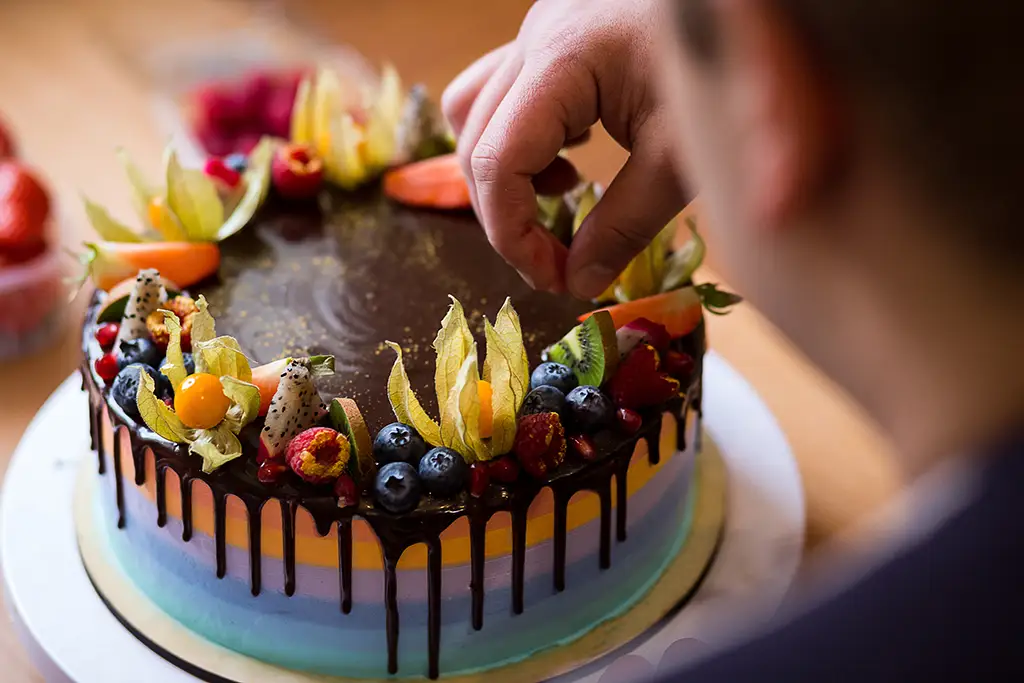 Have Your Cake and Sell It Too
While starting your own cake business from home is a big leap of faith, it is by no means unattainable. Just take it from FLIP customer Leanna Cherry, founder of the home-based bakery The Crumb Picker. She left her corporate marketing job in 2020 and started selling her cookies and crumb cakes from home. 
Not long after starting her business, she received national attention when her cookies were positively reviewed by David Portnoy of Barstool Sports, bringing in a wave of new customers that have helped her business grow. 
While success won't come instantly, if you're passionate about making cakes and take the necessary steps, you can turn your passion into a profitable endeavor. Be sure to download our free cheat sheet to keep these six steps on hand!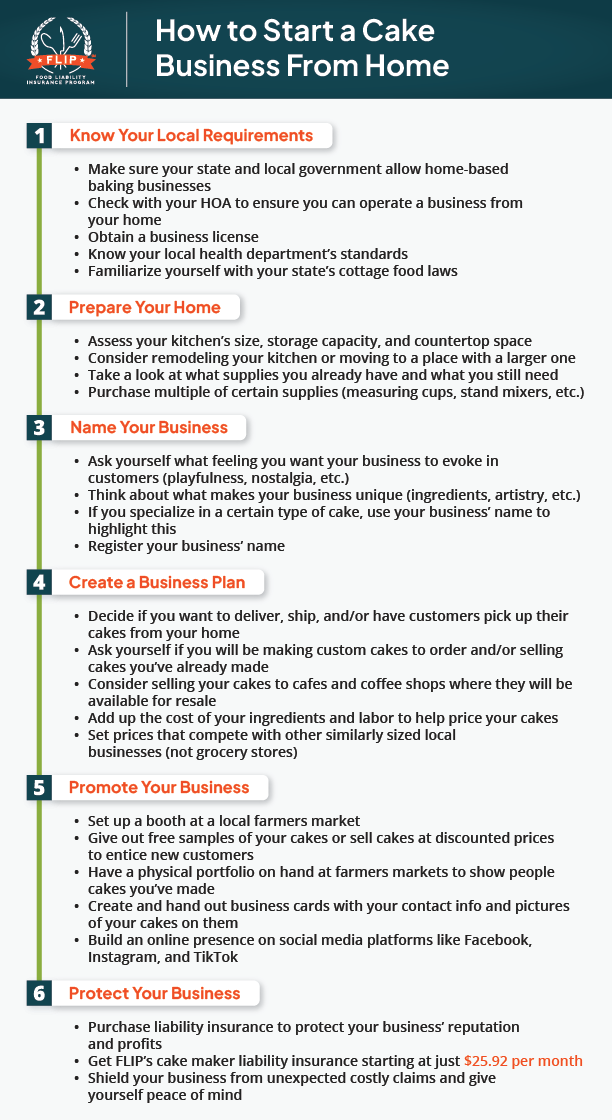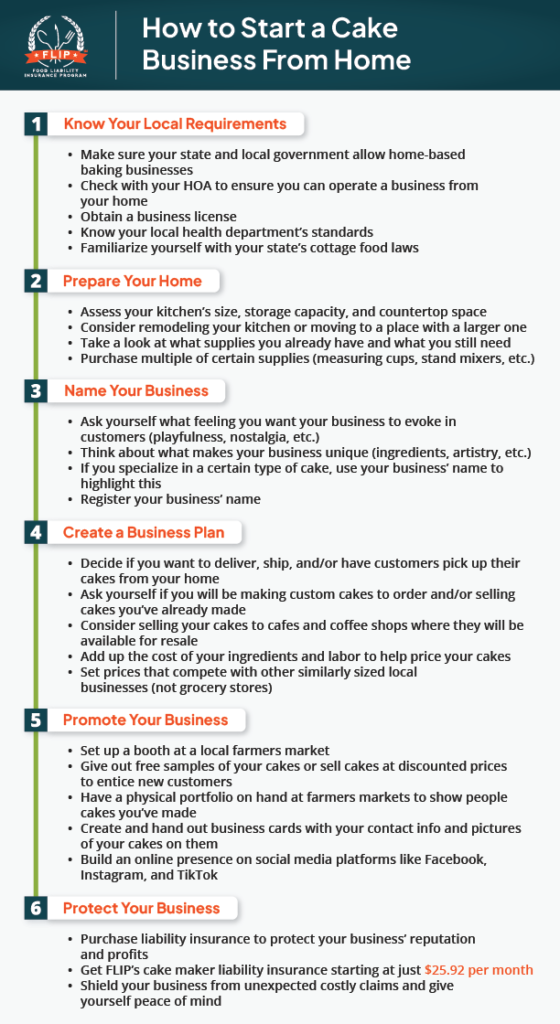 Don't forget to protect your business' profits and reputation with cake maker liability insurance. Get your free quote from FLIP today!