We understand that starting a business can be a bit overwhelming. Between setting up your tax info, getting your logos put together, and drafting a business plan, the small details can feel like they're taking all of your brain space.
Been there, done that, and trust us, we know it isn't easy. That is why we've created this step-by-step guide to help you through the process of how to be a street food vendor. 
In this guide, we'll cover: 

Now, without further ado, let's get to the info and get you one step closer to achieving your dream of business ownership!
The Types of Street Food Vendors
Before you start creating logos, applying for LLCs, or starting your social media pages, you need to narrow down what types of street foods your business will be selling. 
Questions to consider when choosing your cuisine include:
Am I passionate about this type of food?

How expensive are the ingredients?

Can I add my own flair to these dishes?

Will this type of food sell?


Types of street food vendors can include Thai, Asian fusion, street tacos, shawarma, churros, poutine, nachos, cotton candy, Jamaican cuisine, sandwiches, Italian, pastries, fish and chips, hot dogs, hamburgers, donuts, BBQ, pizza, grilled cheese, poke and seafood, french fries, and the list could go on and on and on! 
(If you haven't noticed, we're big fans of street food.)
Our point is that the options for street food vendors are essentially endless. This gives you the full creative freedom to craft a menu that fits your style and business demographic. So the first step to starting your street food business includes establishing your type of street food.
The faster you can do that, the faster you can get closer to your goal of dishing out the best street food to your loyal foodies.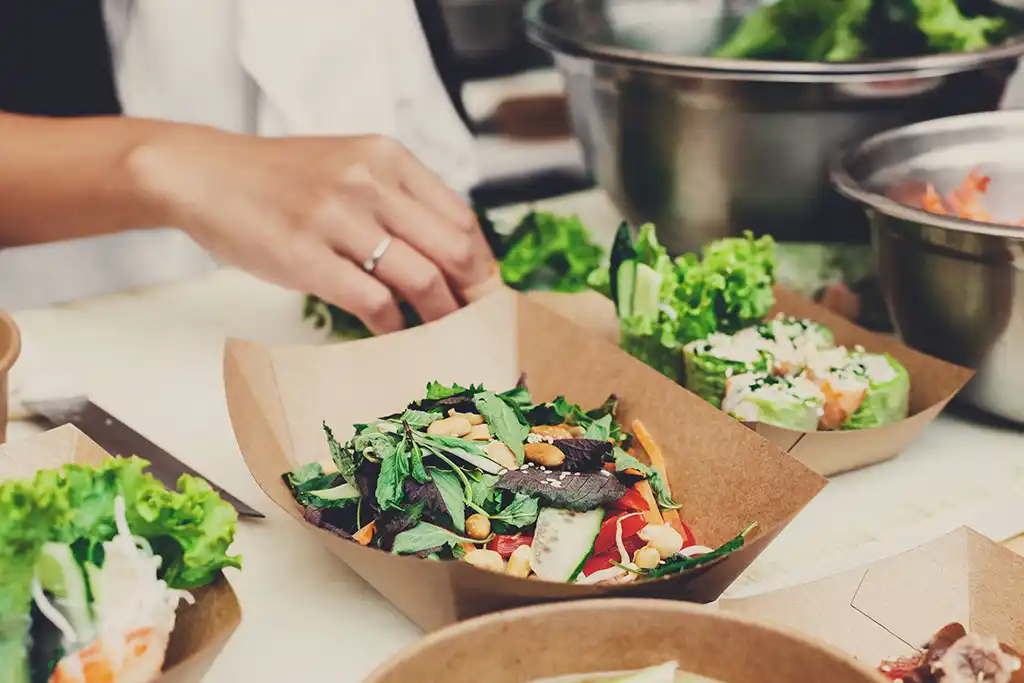 How to Differentiate Between Your Favorite Food and Food That Sells
In addition to choosing your type of street food, it's important to serve food that can generate income and make your street food vendor insurance successful. To do this, you'll have to do some research. 
Research can include these questions:
Who is your demographic?

Where is your demographic?

What are the other types of street food vendors near your location?

What is the weather like? 

Where can you sell your food?

Where are you located?


These questions can help you determine what type of food you want to sell and give you a better chance of making your street food vendor business successful.
Considerations for Starting a Street Food Vendor Business
In addition to establishing your cuisine, there are a few more aspects you need to consider when starting a street food vendor business. Below are a few considerations that can play a huge part in the success of your street food vendor business. 
Local Laws When It Comes to Street Food Vendors
The laws can be individual to each state so make sure you double-check the laws for the state that you operate out of. It's important to know what documentation, street food vendor licenses, or street food vendor permits you may need. 
Some common laws can include: 
Where you can sell your food

The control of the sale of your food

The tax laws and the requirement to report your sales income

The control of public spaces

The control of gathering groups of people

Insurance and liability requirements

 
The laws and regulations of street vendors can be complicated but they are navigational, so don't let that stop you from starting your business!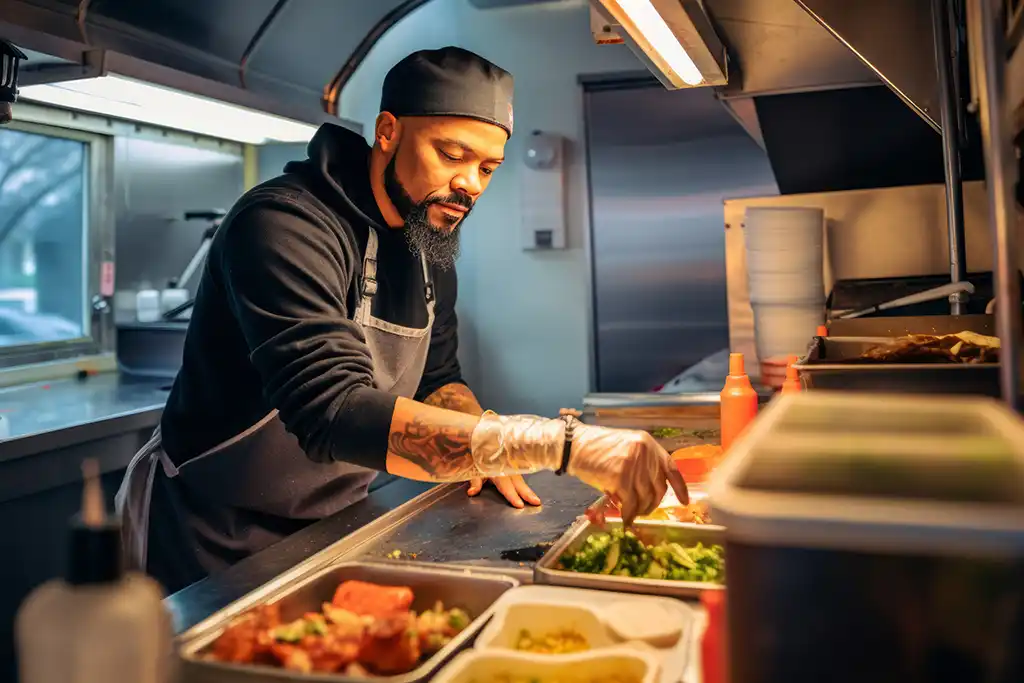 Street Food Vendor Equipment
As you probably know, equipment can play a large role in your street food vendor business. Now, you don't need the best of the best to serve up some mean eats. However, having reliable street food vendor equipment that you can depend on when you're busy is a must-have. Your equipment can vary depending on your business needs and the type of food you prepare. 
Common equipment pieces can include: 
A good knife set

Thermometers 

Cutting boards

Deep frying equipment

Commercial grade microwaves

Ovens

Stove tops

Electric or gas burners


The list is seemingly endless, but don't worry: you will only need whatever equipment it takes to prepare and cook your food. If you are a pizza vendor, you'll probably need a pizza oven; if you make dumplings, you'll need a steamer, etc. 
Food Safety for Street Vendors
This consideration when starting a street food vendor business should be at the top of your list. Without proper food safety considerations, your business could be in serious jeopardy. Having the best food safety handling protocols can help you get permits, licenses, and not to mention, more customers. 
To learn more about updated food safety protocols and tips, visit your local authorities as it can vary by state.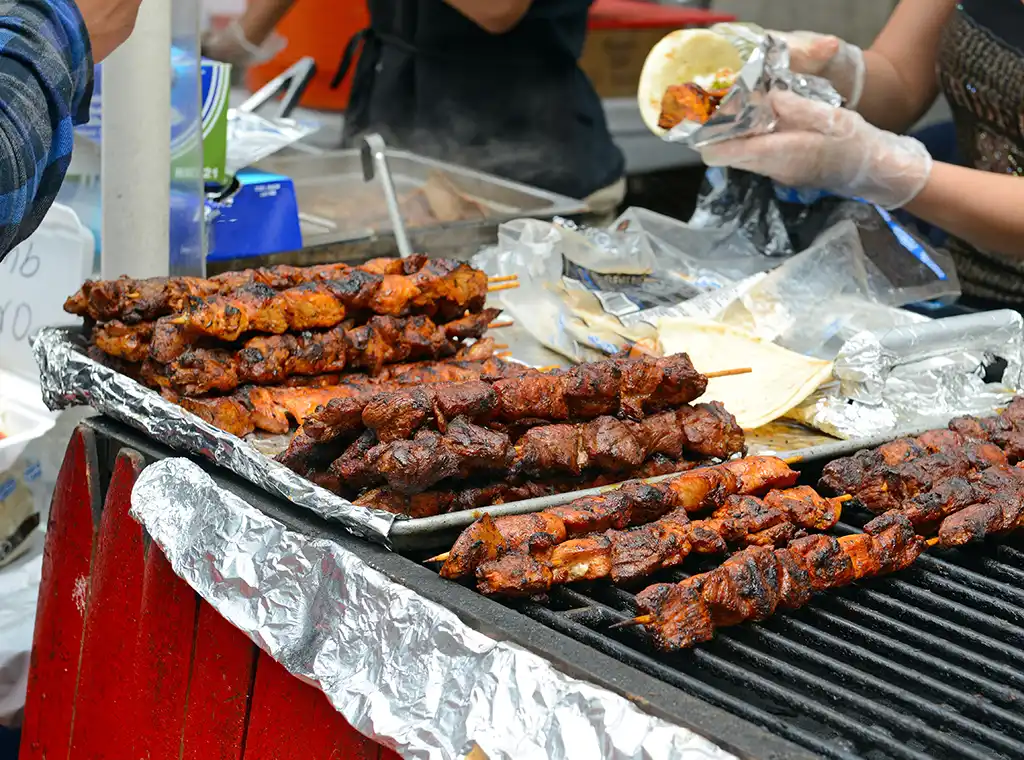 Street Food Vendor Insurance
We would be a terrible insurance provider if we didn't at least mention how street food vendor insurance can protect your business from some serious financial fallout. Not to mention, it could be a requirement by some states in order to operate. 
Protecting your business with street food vendor insurance is easy and can be done in just minutes. Insurance protects your business through a combination of liability coverages. 
These coverages can include:
General Liability Insurance.

Protects from the cost of third-party injury and property damages claims. 

Product Liability Insurance.

If a customer comes down with food poisoning because of the food you served them, you could be liable for medical and attorney fees. 

Inland Marine Insurance.

Also known as Tools and Equipment insurance, this coverage protects your equipment in the event of a covered loss. 

Damage to Premises Rented Coverage.

If you serve clients on a rented property, there is a risk of damaging that rented property.
Before you whip out your credit card, here are three things you need when looking for food vendor insurance to help you choose the right policy for you. 
We understand that insurance can be a foreign language and you're probably worried about what happens when you need to file a claim. Well, we have that covered. The food vendor insurance claims process is quick and easy, having you back to work in no time. 
You can get your quote in 10 minutes or less! Get yours today!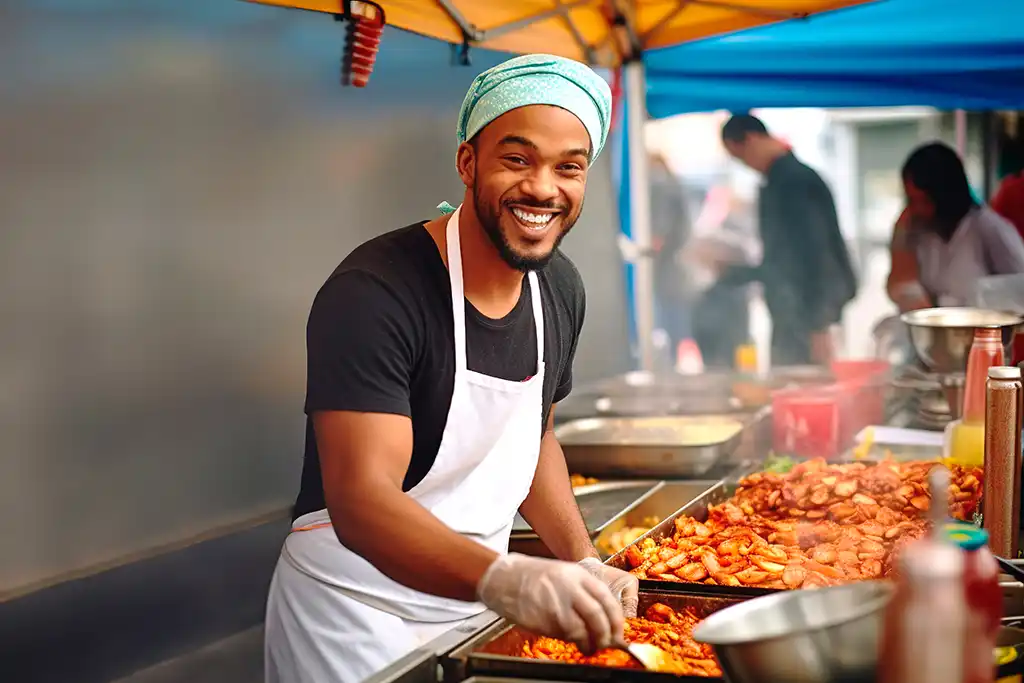 How Much Do Street Food Vendors Make?
The income range for street food vendors can vary depending on how often you serve, where you serve, overhead costs, etc. Because you are your own business, your income doesn't have a ceiling and you are free to make as little or as much as you like. 
To learn more about the different income limits of street food vendors, check out this table on street vendor income by ZipRecruiter. 
Get Your Street Food Vendor Business Started Today!
And there you have it, your step-by-step guide on how to start a street food vendor business. From the types of food you decide to serve to the different considerations that play into starting your business to even the yawn-worthy insurance side, we have you covered. 
So what are you waiting for? It's time to make your dreams a reality! We'll help you jump-start your street food vendor journey today with insurance that starts at just $25.92 per month! Get your business protected faster than you can say "Bon appetit!"